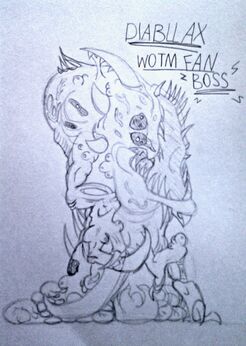 Diabllax is a monster created by MechanicOrga.
Diabllax (Dee-ab-lacks) is an anonymous, amorphous monster, composed entirely of many carcass, both animal and human alike. He is a boss encountered in an unofficial addon for Adventure Mode.
Background
Edit
It is unknown how Diabllax came into existance, but one theory suggests he was in fact some sort of parasitic lifeform that spawned from the radioactive UFO fuel itself, starting off as an infectious bacterium from the Zorgulon's homeworld.
Adventure ModeEdit
Diabllax appears as a boss rather than a playable monster. He is fought in 3 phases.
Abilities
Edit
...
Final Concept:Edit
...
...
...
...
Original Concept *:Edit
Asterisk ( * ) - This was an old concept for Diabllax until it was scrapped.
In Bay Town, after the player's monster defeats both Robo-47s, the ground will proceed to collapse beneath them due to an earthquake, causing the player's monster and the two destroyed Robo-47s to fall into the gaping pit where the city once was. They land in a giant cave, of which is completely smothered in debris. Then the player moves a few steps forward, a snarl can be heard behind them, and when they turn around, both robots dissappear and only a mysterious hole is there, right next to were they once were.
As the monster advances through the colossal cave, remains of damaged buildings and debris will have to be smashed to progress further; 5+ energy pickups can also be collected. Through wide gaps of the narrow cave, many ridged tunnels can be seen, similar to that of the Mutant Ants hill from Rosdale Canyon. What can be noticed is that each hill in the cave is deralict; not a single ant is anywhere to be seen (suggesting they either fled or Diabllax consumed all of them). This hints that the cave was home to an entire colony of Mutant Ants.
Finally the lead monster reaches a dead end. The path ahead is blocked with a sticky residue-----
...
...
...
Design Notes
Edit
Diabllax doesn't have a definite form; it is always changing and morphing in responce to its environment and opponents. It is a crimson red with sickly highlights of olive green and a dirt brown. Skulls and half-digested appendages stick out of Diabllax's viscous body.
It is generally bigger than the player's monster by at least a few metres. It' s bigger than Goliath-Prime but smaller than Vegon.
From digesting enough organic matter, it is able to replicate skeletal features to weaponize, like teeth, claws, blades, spikes, of which can be retracted to suit the situation.
Diabllax doesn't have an actual roar, so it creates one from its victim's larynxes to unleash a thousand screams of those it slain.
Diabllax's name is a portmanteau of diablo (Spanish term for devil) and parallax (the error of taking measurement), so it therefore means the Devil's error of taking measurement (AKA even the Devil fears what he has created). Parallax is also a method of finding the distances of planetary objects, a reference to his extra terrestrial origin.

Diabllax was originally going to be named Megabomination, but was scrapped due to lengthyness.

Because Diabllax is based off a single-celled organism, it's actually a hermaphrodite
Diabllax's design has taken inspiration and utmost influence from creatures from other franchises:
It is currently going through multiple design phases to achieve an appearance fitting to War of the Monsters' art style  (E.G. Spikes). A picture is being held as a concept placeholder, as the overall concept of its appearance is too grotesque. Until then, further details have yet to be unvieled by MechanicOrga.
Diabllax, being once a bacterium, may have mutated its properties from the radioactive UFO fuel.
What can be noticed is many of Diabllax's morphs have sharp bone, tooth and spiked appendages sticking out of it's body. These appendages are in fact from monsters the player's monster defeated previously in Adventure Mode (for instance, Togera, Preytor and Raptros) and Diabllax actually consumed the monsters.
Ad blocker interference detected!
Wikia is a free-to-use site that makes money from advertising. We have a modified experience for viewers using ad blockers

Wikia is not accessible if you've made further modifications. Remove the custom ad blocker rule(s) and the page will load as expected.