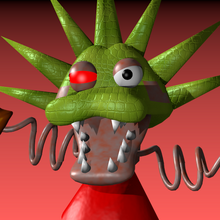 Mad Jack is a monster created by RareWare and the model and WotM idea is CharlieDaAwesome's.
Mad Jack is a giant alligator cyborg jack-in-the-box.
MJ was created by King K. Rool to destroy Tiny Kong after Donkey Kong saved her, she destroys him and years later Incognito Entertainment gave up on creating monsters because I can't think of a reason why he's in the game.
Appearance
Edit
Mad Jack is a giant alligator cyborg jack-in-the-box.
Abilities
Edit
He can punch, jump really high, and can hide in his box.
Basic Combos
Edit
X-X-X-X-L1 Throws a fireball.
L1-L1-L1-R2 Shoots multiple lasers in random directions.
http://img12.deviantart.net/2d4b/i/2015/184/3/e/wotm_style_alt_skins__mad_jack_by_charliedoes69-d8ztbcd.png
(This picture uses a older model)
*Mad Jack is from DK64.
Ad blocker interference detected!
Wikia is a free-to-use site that makes money from advertising. We have a modified experience for viewers using ad blockers

Wikia is not accessible if you've made further modifications. Remove the custom ad blocker rule(s) and the page will load as expected.