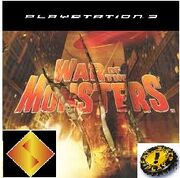 War of the Monsters (2014) is a 3D fighting game set in the 
70's and inspired by the giant monster movies of time. It is a reboot of a game of the same name by Incog (now Eat, Sleep, Play) and SCEA (2003). All characters are part of a series of 100 ft. tall monsters, most of which were in the first game. 
Characters
Edit
Most characters are brought in from the first game, though new monsters and skins were added. The monsters are as follows.
Togera
Raptros
Agamo
Ultra-V
Magmo
Preytor
Raptros
Zorgulon
Congar
Kineticlops
Robo-47
Messor
Mordice
Skygge
Gameplay remains largely the same with the addition critical mass and the fifth skill skin. This skin is another costume for a monster, but uses different combos and abilities. The skill skins are as follows.
Ultra-V: Darth Vader
Togera: Armadillo
Robo-47: Silon
Magmo: Earth